Why S. George? He is not even English – or Maltese!
Edward III made him England's patron saint (we had a 'local' saintly hero before, S. Edmund of East Anglia: co-incidentally, the patron saint to call upon in pandemics). The king wanted to rebuild the strength of the English monarchy after the disastrous reign of his father, so S. George was part of his strategy to make England one of the most powerful and warlike nations in Europe. No wonder his flag is enthusiastically waved by the far right – and, less reprehensibly, by England football fans who want their team to be conquering heroes (some hope!).
George was, indeed, a soldier, serving under that persecutor of Christians, the Emperor Diocletian ( https://www.newadvent.org/cathen/05007b.htm ) and was beheaded in 303AD because he refused to renounce The Faith and make sacrifices to pagan gods. This is the example we celebrate. He is actually a martyr for The Faith. (The dragon came later – a C12th addition to the legend). All of this and much more can be more fully explored in Michael Collins book.
Sermon for Saint George's Day by Michael Collins
Yes, the dragon association makes him seem like a fairy tale character and not a flesh and blood man who refused to deny Christ. However there is more symbolism to the dragon than meets the eye.  For one thing remember Revelation chapter 12 and the Archangel Michael. Think also of that striking statue on the outside of Basil Spence's Coventry cathedral.
There is a long tradition in Christian spirituality about treading down the devil and sin and thus of Michael, and by analogy George, being spiritual warriors.
The dragon – in effect the serpent writ large – represents evil, sin, temptation, and maybe in our present circumstances despair, depression, fear. Sometimes in the wee small hours black thoughts can assail us – well me anyway. It's not death itself exactly but the idea of being isolated, alone, separated from those one holds most dear; what will happen?  Will I survive? Unhelpful thoughts of that sort, whatever they may be.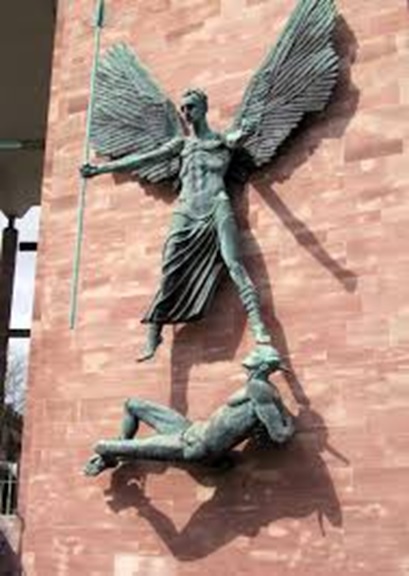 Is it helpful to think of spearing them like S. George or S. Michael with a lance?  Abba Irenaeus, one of the desert fathers, reminds us we are soldiers of Christ and just as soldiers of earthly kings have a spear we have prayer. This calls to mind the 'dart' prayer – a very brief cry to God that can be uttered in times of desperation, fear, or temptation (of black and pointless thoughts in the dead of night!). "Lord have mercy"; "Maranatha, Come Lord Jesus"; "Christe eleison".
[A formal, technical term for this kind of prayer is ejaculatory prayer or ejaculation, both ultimately from the Latin noun jaculum 'an arrow, spear, dart, missile; an airborne weapon intended to be thrown quickly' (see 1891 citation; at *flash prayer, see 1977 citation). According to the Oxford English Dictionary, two meanings of the noun ejaculation are "the putting up of short earnest prayers in moments of emergency" and "a short prayer 'darted up to God' in an emergency."]
The author of that C14th spiritual gem, The Cloud of Unknowing counsels us to take a word of one syllable, he suggests the word 'God' or the word 'Love' – 'choose whichever you wish or another if you prefer' he writes and,
'Fasten this word to your heart so that it never leaves you come what may. This word is to be your shield and your spear, whether in peace or in war.'
Sometimes I find this sort of prayer is the only one I can manage in the 'darkness of the night' – be that night literal or metaphorical. It reminds me of my utter helplessness and of God's grace which, though I cannot 'feel' it at times, I know to be a fact; one I can call upon with a sure hope.
So S. George and his slaying that dragon has taught us something. His martyrdom, one man's courage in the face of persecution, is still worth honouring. God remembers him and his witness. Let that be enough – and let us pray we will never be asked to renounce our faith or to act immorally to save our skin (the equivalent of sacrificing to pagan deities). Reflecting on that might make us truly thank God for the example of S. George!
With every blessing and my prayers,
Fr Peter
Assistant Priest, Pro-Cathedral of S. Paul and S. George

St George's Day 2020