Thomas Merton [  http://merton.org/chrono.aspx ] the great writer, Cistercian monk and activist; that uncompromising challenger of American Roman Catholic 'self-satisfiedness', once wrote in a prayer about Trust:
I have no idea where I am going.
I do not see the road ahead of me.
I cannot know for certain where it will end.
And this is what so many people have told me they find so hard in this time of crisis, lockdown and silent threat. 'If only I could plan ahead.' 'If only I knew if I could travel next year.' 'If only we knew when a vaccine will be ready.' Not knowing. Not being – I suppose – in control is what all that means. Trusting in God alone. Wow! That is hard! It is alright in theory of course (while not faced with real uncertainty) but now we are …
Probably the reason we have never felt quite like this before is because, mostly, we have always had everything we have ever needed. I doubt there are many, any, who will read this who have ever in their lives literally not known if they will eat tomorrow. Or whether they will find water to drink. Or whether or not they will find somewhere to sleep, safely, out of the cold. (If there are such I am sorry my limited experience of life and of suffering causes me to make glib assumptions).
In my teaching about motivation and behaviour in organisations, I usually refer to a classic diagram called Maslow's Hierarchy of Needs. Here it is below.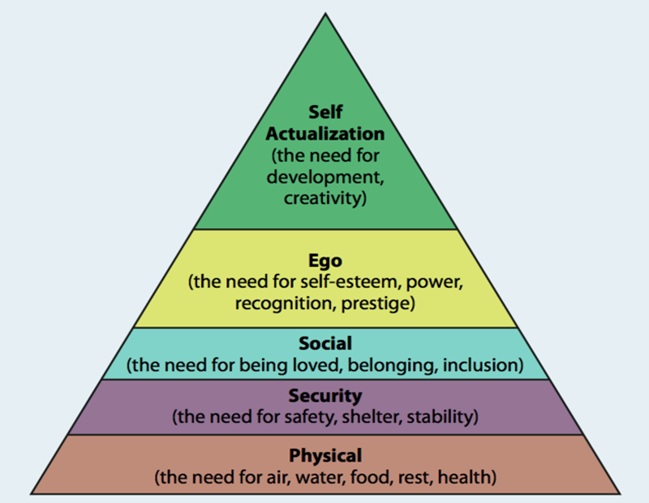 The theory goes that you have to have basic needs at the bottom satisfied first before you can move up to the next 'level'. A more nuanced reading suggest you can dodge about a bit in life, going up and down at different times and stages. So what a young, poor, single mother with three hungry children might desire will be very different from a wealthy barrister about to retire at the pinnacle of his profession looking forward to writing a book, painting or running his farm.
However, what such neat compartmentalised charts of human life did not envisage is that the whole world could be suddenly 'locked down' in those bottom two stages – where health, safety, stability are in question for everyone. When the men in white coats are standing at the bottom of your bed scanning the charts and discussing if intensive care and a ventilator on stand-by might not be prudent, then indeed, anyone might truly say, Lord, 'I do not see the road ahead of me'.
Pierre Teilhard de Chardin SJ [http://teilharddechardin.org/index.php/biography ] another great theologian and writer, said, 'when the road before us is shrouded in darkness' there is then only one prayer which might help us out of the fog. The prayer is that of our Master on the cross,
In manus tuas commendo spiritum meum.  Into Your hands I commend my spirit.
I think I have already told you in a sermon once before that when I came round from my heart bypass, hovering between life and death, I could only just start the Lord's prayer: Our Father … and then the words just left me. But Thomas Merton can help us here, as we endure this curious 'hovering' in our lives. He reminds us that the important thing is our 'intention'. Because often we think – hope – we are doing what God wants but in truth that doesn't mean we actually are doing so! Comfort comes in our trust that the desire to please God is what pleases Him – even if we are on the wrong path. So never mind what a mess we are making of things; never mind our lapses, our sinfulness, our hopelessness. If I always do everything with the deep desire to please God He will lead me
By the right road though I may know nothing about it.   
And so let this be our prayer at this time when things that lie ahead are not that clear and the future seems decidedly uncertain. Let trust in God become our heartfelt desire. Then we may say with a good heart,                                                  
Therefore will I trust You always though I may seem to be lost and in the shadow of death. I will not fear, for You are ever with me,  and will never leave me to face my perils alone.
That, essentially, is the meaning of this week's feast of the Ascension of the Lord. The Jesus of history becomes the Saviour Christ of all eternity who, with the Father and the Holy Spirit are with us, and accessible to us, always, throughout all time and space; In our life and at our death. And if that is not a comfort – what is?
With every blessing and my prayers,
Fr Peter
Assistant Priest, Pro-Cathedral of S. Paul and S. George

Solemnity of the Ascension of the Lord 2020